PHAiRS Project Information
State and local health officials face a wide range of challenges from DUI and tobacco-related illnesses to environmental and infectious diseases. To meet these challenges, officials require dynamic information on the illnesses and conditions within their jurisdiction. NASA Mission assets offer a significant contribution to meeting these challenges by measuring and monitoring environmental and atmospheric conditions that relate directly and indirectly to public health.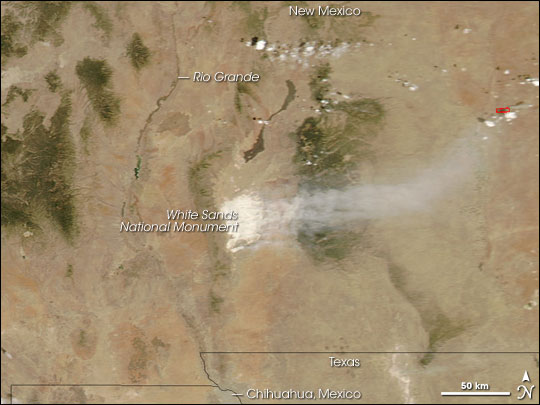 Dust Storm at White Sands, New Mexico: On March 14, 2008, a dust storm struck southern New Mexico, near the borders with Texas and Mexico. The dust came from White Sands National Monument. At White Sands, pale gypsum sand covers some 715 square kilometers (275 square miles) of desert, providing ample material for storms when strong winds strike. This image, acquired on March 14 by the Moderate Resolution Imaging Spectroradiometer (MODIS) on NASA's Aqua satellite, shows the dust storm blowing eastward away from the national park. The white gypsum dunes contrast sharply with the surrounding landscape, and the dust plumes emerging from the park share the same characteristic color. Outside of the park, patches of green attest to the presence of vegetation, but the region is mostly arid, with earth tones predominating. NASA image courtesy Jeff Schmaltz, MODIS Rapid Response team. Caption by Michon Scott.
Realizing this contribution requires ingest of relevant environmental and atmospheric measurements into SYRIS that are scientifically sound and rigorously tested. However, to assess the value of NASA contributions requires integrating historical and real-time health data with data on the environmental conditions affecting public health. SYRIS currently provides real-time syndromic monitoring and analysis capabilities. The goal of this project is to extend these capabilities to include environmental and atmospheric information relevant to selected zoonotic and respiratory illnesses. This will be accomplished by assimilating NASA data sets and derivative products into SYRIS, and serving the resulting Decision Support System over the Internet to the Centers for Disease Control and Prevention (CDC), the National Institutes of Health (NIH), and to state and local public health officials in forms they can interpret and respond to quickly.
Created by
admin
Last modified
2008-10-23 02:47 PM